---
The Best New Way To Cut, Chop, Slice and Dice!
Whether you are cutting, chopping, slicing or dicing, the Eazy Slice™ will help you effortlessly achieve that. It's makes cutting so easy that you'll never use an ordinary knife again!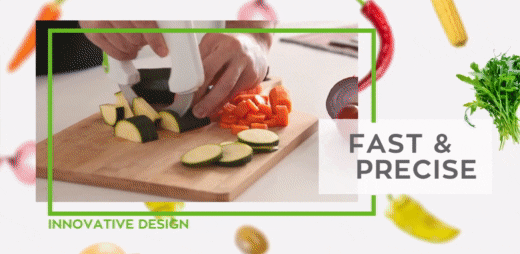 Provides Maximum Control
Using sharp knives is very dangerous especially if you are using regular kitchen knives. But with the Eazy Slice™, the handle is at the top allowing you to hold at the top of the blade. So you can be incredibly precise slice after slice! This will also be less demanding on your joints and muscles while significantly reducing the likelihood of you cutting yourself. "I have arthritis and when I use the Eazy Slice™ it's not challenging, and it's not hurting my wrist".
Eazy Slice™ Vs. Regular Knives
We've all used regular kitchen knives, they hit countertops, cutting boards, and are hard to control. Not only that, but they are frankly unsafe. However, with the Eazy Slice™ the blades stays in contact with the food at all times! It cuts as you roll forwards and backwards. And that's gonna save you a ton of time in the kitchen. "It's lightweight, it slices, it dices, and it cuts your time in half" ~ Jessica Gatto 
FEATURES:



Ergonomic Design:
Hold the Eazy Slice™ naturally with a grip. It's easy to apply pressure to cut effortlessly using your own weight instead of the unnatural distribution of pressure with standard knives. 
Safety Sheathe:
With standard knives, there's always a risk of unintentional cutting. The Eazy Slice™ has a retractable sheathe that keeps you safe when it's not in use. 
Efficient Cutting:
The Eazy Slice™ allows you to cut much faster than traditional knives. With natural feeling, cut through vegetables, pizzas, and other food.  
   Don't Just Take Our Word On It 


FREQUENTLY ASKED QUESTIONS
Q: Is it hazardous?
A: The Eazy Slice™ is proven to be safer than the traditional knife. It keeps your hands further away from the blade, and closer to the food product. It also comes with a sheathe to store it when not in use preventing those instances when a knife accidentally wounds someone or stabs a foot when dropped.
Q: How do I sharpen the Eazy Slice?

A: You can sharpen the Eazy Slice™ as you would with any other knife because the blade easily comes out for your convenience. 
Q: Does the Eazy Slice come with a blade cover?
A: Yes, the Eazy Slice™ does come with a blade cover.
Q: Is it easy to clean?
A: Yes!, the Easy Slice™ can be disassembled for easy cleaning with soap and water.

Q: Is that break some kind of a safety lock?
A: Yes, for precautionary measures plus, it will help you to slice easier instead of just rolling the blade over to the subject / food.

    Buy with Confidence
  ✔️  Logistics / Tracking Numbers
 ✔️  Secure Checkout - SSL Enabled

✔️  24 / 7 Customer Support
Low Supply Notice:
Due to the increased demand for the Eazy Slice™ we have sold out almost instantly after every release. If you would like to reserve an Eazy Slice™ please email us at Reserve.eazymeasure@gmail.com